Growth Hacking Lausanne: Automation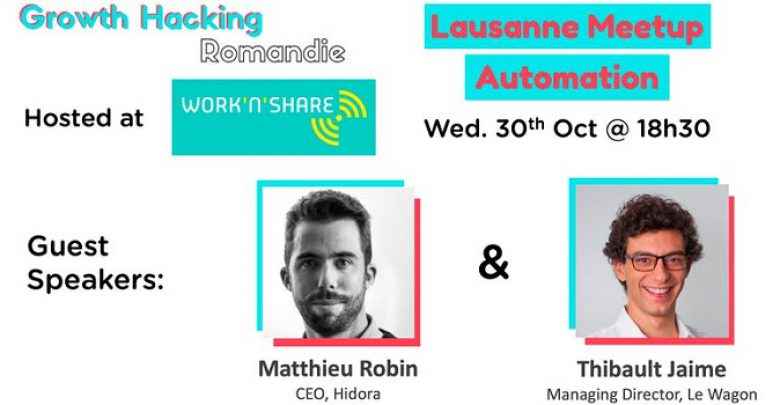 Carte non disponible
Date/Heure
30.10.2019
18:30 - 21:00
Lieu
Gavin Lancaster
People from Lausanne: we haven't forgotten you! Time has come for us to be back there on the subject of automation. Automation is broad, but at the end of the day, it helps you execute repetitive tasks on your behalf or execute actions you don't need to monitor continuously. Sounds like a pain you want to get rid off? Then join us where two guest speakers will show how to save time and focus on other ways to acquire more clients:
Matthieu Robin, CEO of Hidora (a platform for developers, agencies and e-commerce to build, deploy and scale any PHP, Java, Python, Node.js, Ruby or Docker-based apps in the cloud) will share the logic and mindest of automation and how it can be applied to email automation
Thibault Jaime, Managing Director at Le Wagon Lausanne (a coding school for creative people and entrepreneurs which consists of a 9-week bootcamp to learn programming languages) will make a live demo on how to use Zapier, an automation tool accessible to all
The format will be quite hands-on so you will definitely be leaving this meetup with something to work on. A Q&A session is also planned. The coworking space Work'n'Share will be our host for this evening, a cosy venue downtown Lausanne.
Event open to all so don't hesitate to share it, looking forward to seeing you there!
Date: Wednesday 30th October
Venue: Work'n'Share, Rue du Liseron 7, 1006 Lausanne
Program:
18h30: welcoming drink
19h00: meetup starts
20h15: networking
retour à l'agenda